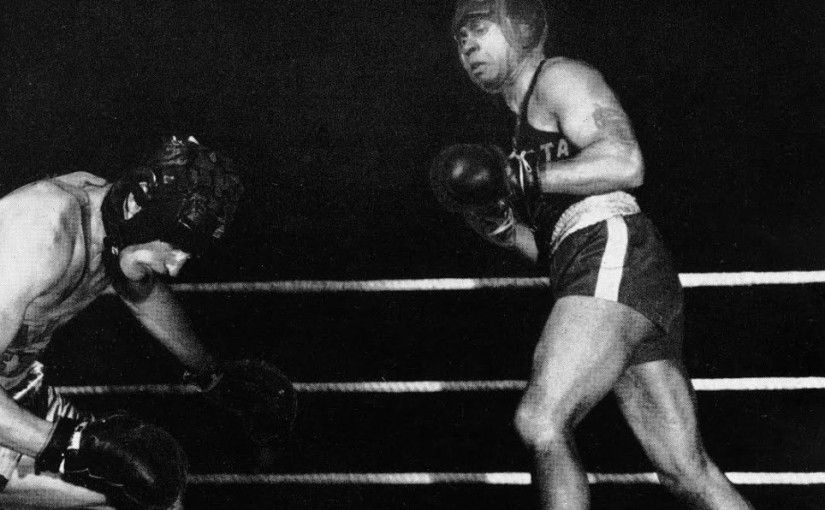 Image caption: Bill McMoore carried a menacing right hand when he entered the ring, just waiting for a jaw to be exposed. This falling San Jose State boxer felt McMoore's power in their 1951 match. 
By Ron Thomas
(The following is the introduction I read before presenting McMoore with a Pioneer Award from the National Association of Black Journalists Sports Task Force on August 7.)
When Bill McMoore graduated from the University of Minnesota, Harry Truman was president, "I Love Lucy" had not debuted on TV yet, and the NBA still was playing without a shot clock.
It was 1951, and if Bill wanted to view the university's black representation on the football and boxing teams, and in the Education Department, all he needed was a mirror. In all three cases, he was the entire brotherhood. Yet, he persevered.
As a boxer, succeeding was a breeze because his coach was so supportive. "He was more of a father-like coach, so I didn't feel discriminated against," McMoore, now 89, recalled. "Ray Chisholm was a very nice guy."
McMoore responded to his support by becoming the No. 2-ranked lightheavyweight in NCAA rankings, back when boxing was a sanctioned sport.
"I had a good right hand," Bill said. "You had to worry about that…. Straight right hand to the chops."
However, McMoore seldom played in a football game. He believes that he was discriminated against, but he refused to quit the team. "That was just ingrained in me," he said. "I didn't want to give up in anything."
A One-Man Employment Agency
Bill began his teaching career in 1958 at Minnesota South High from where he graduated, and in the early 1980s he became the district's director of health, physical education and athletics. He used that authority to add color to the sidelines, including giving Sports Task Force member Charles Hallman his first coaching job.
Charles was teaching young kids basketball one day when a parent complimented him and asked if he coached high school ball. When Charles said no, the parent said he knew someone who could hire him. A few days later, Bill called and asked for his resume.
"I didn't know he was the AD," Charles recalled. "I just thought he was somebody working for the schools. I didn't know he was THE MAN."
That was in 1984, and soon Charles was an assistant coach. Today, he's still coaching in Minneapolis schools and so are both of his sons – all part of McMoore's legacy.
But Bill is most proud of how hard he fought to get women hired as coaches. "If a man could find benefits from coaching in sports, why shouldn't women?" he said.
Bill retired from the school district in 1989 and became director of community relations for the NBA's Minnesota Timberwolves, where he started an internship for minorities by recruiting from HBCUs. One of his finds was Terrell Battle from Winston-Salem State, who now is General Manager of Lifetime Fitness in Minneapolis.
So Bill, please come to the podium to accept our award for being a black pioneer in so many ways for so many people for so long.