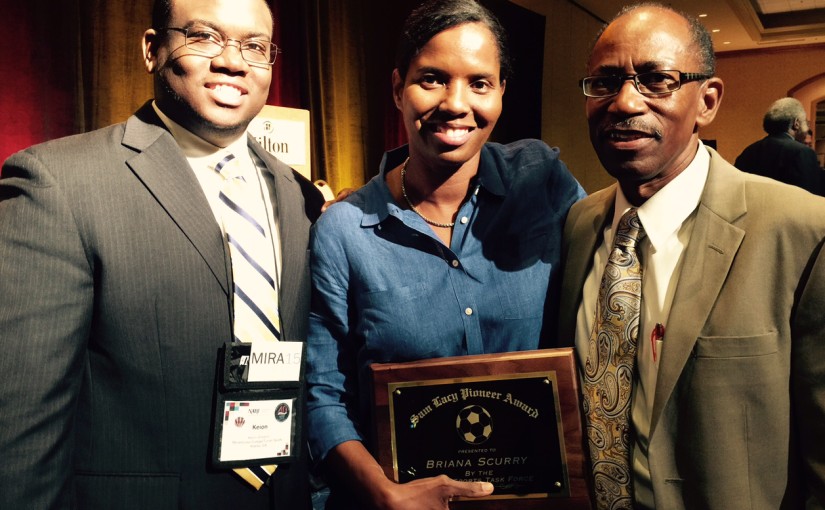 Image caption: Briana Scurry, the goalkeeper on championship Women's World Cup and Olympic teams, celebrated receiving her Pioneer Award  with Morehouse student Keion Grissom and co-host Ron Thomas on August 7 at the 2015 National Association of Black Journalists Convention in Minneapolis. 
By Ron Thomas
(The following is the introduction I read before presenting Scurry with her award from the NABJ Sports Task Force.)
The pitch has been Briana Scurry's home since she started playing soccer on a boys' team because there was no girls team. She was 12 in Dayton, Minnesota, and the coach made her goaltender to keep her out of harm's way. Wrong concept.
Describing goaltending, she said, "The best analogy was one I heard when a pilot was doing a speech and said flying is absolutely hours and hours of monotony, coupled with instances of sheer terror."
The shot stops here
The ball is away from a goaltender almost the entire game, "Then 21 people are trying to crash into your space," Briana said. "It's very difficult because of the pace, and people's intuition is to avoid objects, people and knees coming at you, but as goaltender you have to go TO that stuff."
Her daring led Briana to become the most successful African-American soccer player in history and to be named on U.S. Women's Soccer's all-time best team after participating in 133 victories (including 71 shutouts), only 12 losses and 14 ties.
The coming out that wasn't
She also made social history in 1999 when Briana became one of the first high-profile athletes to come out publicly as a gay person. You don't remember that? There's a reason why.
Just as Abby Wambach ran to the stands to kiss her wife after America's World Cup victory last month, Briana ran to her girlfriend after winning the 1999 championship in which she made a title-saving save. "But," Briana recalled, "ABC cut away when they realized I was kissing another woman. So, that was my coming out."
Fact is, Briana has never hidden being gay and speaks out frequently on diversity and LGBT issues.
Career-ending concussion
Her career ended in 2010 when an opponent accidentally kneed her in the side of the head. She completed the first half of the game, walked to the bench leaning to one side, and never played again.
The blow gave her a concussion that, according to Sports Illustrated, afflicted her with three years of severe headaches that made it very difficult for her to concentrate, socialize, write, walk or do soccer commentary. "After a while I started to get depressed," she told SI. "My brain chemistry had changed. … My mind was broken."
Her life was put back on track after neurologist Kevin Crutchfield figured out that a nerve that went from the spine to her neck to the back of her head had become intertwined with a muscle. A 2013 surgery removed the nerve, ended the headaches and started her path toward normalcy she's still striving to achieve.
Protecting the future of women's soccer
Especially because girls playing soccer are unusually susceptible to concussions, Briana has become an outspoken advocate for concussion awareness and criticizes soccer federations that underplay the problem.
She asked, "Can we please do something before parents think, like football, that soccer's too dangerous?"
Soccer needs someone to save itself from ridicule. Who could be better for that task than Briana Scurry? For all that you've contributed to your sport and to our enjoyment, please come get your Pioneer Award.