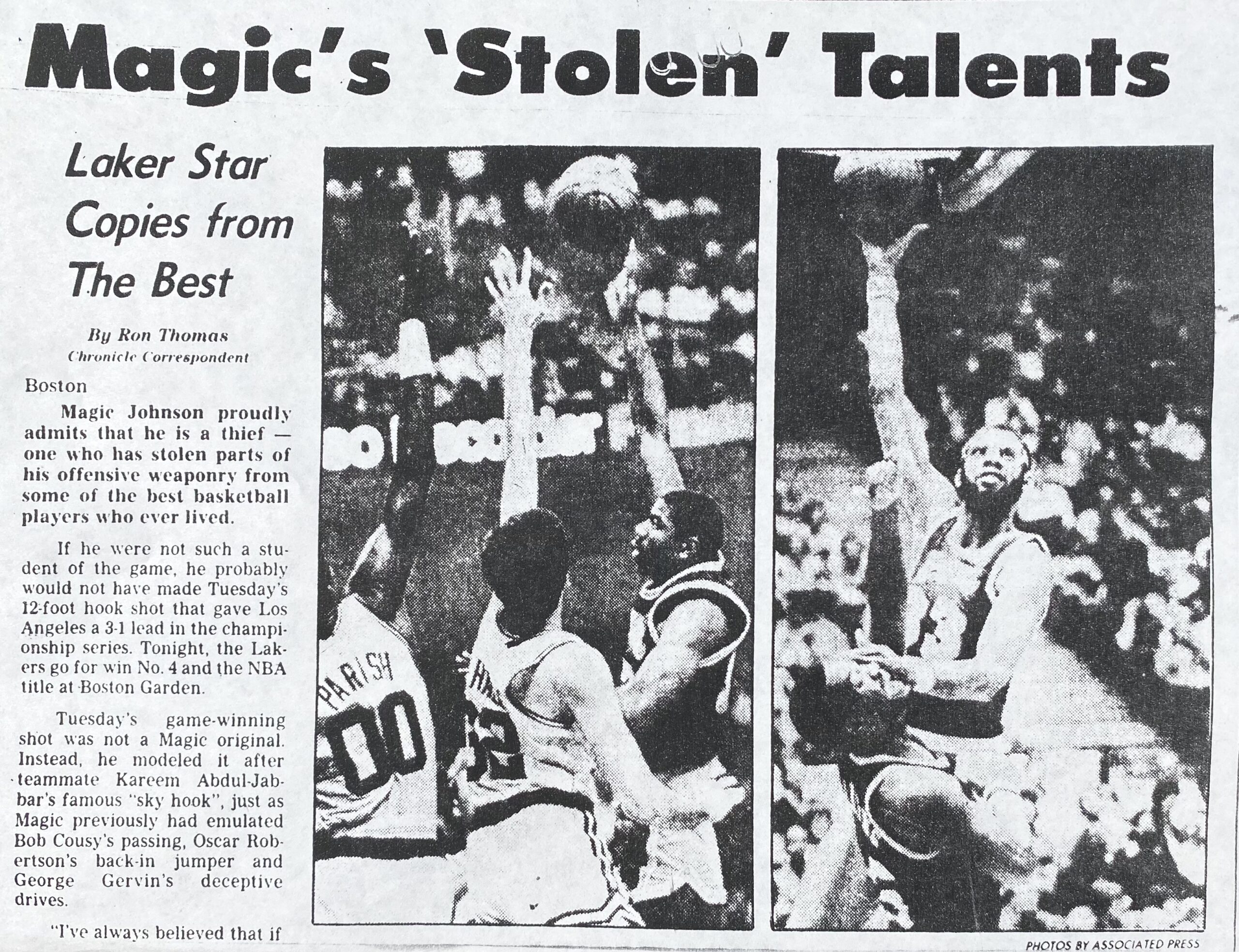 Magic Johnson was listed as a point guard, but he was that in title only. At 6-foot-9, he could shoot or pass over almost any defender. With phenomenal peripheral vision, he could find any open teammate. From the ages of 28 to 30, he almost doubled his 3-point shooting percentage so he couldn't be left alone on the perimeter. And in Game 6 of the 1980 NBA Finals, he proved that he could excel – not just play – center, too.
That evening Kareem Abdul-Jabbar sat out the potential title-clinching game against the Philadelphia 76ers, so Magic volunteered to take his place, then filled the stat sheet with 42 points, 15 rebounds and seven assists. That performance earned him his first NBA championship, the Finals' MVP Award, and a reputation for being able to play any position.
On June 9, 1987, Magic's incredible versatility attracted the national spotlight again when his "junior, junior" sky hook – fashioned after Kareem's signature sky hook – stunned the Boston Celtics with two seconds left in Game 4 of the NBA Finals. Two games later, the Lakers clinched the title. In Magic's 12 seasons with L.A., they appeared in the Finals nine times and won five championships. Here are the roots of today's article:
The day after Magic's winning hook shot, writers surrounded his locker and asked how he learned that shot. He credited it, and much of his varied skills, to thievery. Here's how Magic built his game, one unashamed theft at a time, as told in my San Francisco Chronicle article on June 11, 1987.
Magic's 'Stolen' Talents
By Ron Thomas
Chronicle Correspondent
Boston
Magic Johnson proudly admits that he is a thief – one who has stolen parts of his offensive weaponry from some of the best basketball players who ever lived.
If he were not such a student of the game, he probably would not have made Tuesday's 12-foot hook shot that gave Los Angeles a 3-1 lead in the championship series. Tonight, the Lakers go for win No. 5 and the NBA title at Boston Garden.
Tuesday's game-winning shot was not a Magic original. Instead, he modeled it after teammate Kareem Abdul-Jabbar's famous "sky hook", just as Magic previously had emulated Bob Cousy's passing, Oscar Robertson's back-in jumper and George Gervin's deceptive drives.
"I've always believed that if you look at other people's games and see something that can help our game, you should steal it," Magic said. "Why not? That's a smart player to me.
"You just steal a little to make your game better, and the guys I took things from were the best in the game. Now I take all those guys and add it to my game, and this is Magic Johnson's game.
"Here I am."
Calling on the hook shot guru
The newest addition is his hook, which he shoots with the right or left hand.
Before this season, Magic had used the hook since college, but only in pickup or H-O-R-S-E games. Then, last summer in training camp, Coach Pat Riley changed Johnson's role from playmaker to scorer-passer, and Magic decided to add variety to his repertoire of shots.
At 6-foot-9, he usually has a height advantage over defenders, so the hook shot seemed ideal for him.
"Plus, even if a man is taller than you, that's one of the only shots you can still get off," he said. "It's just a hard shot to block."
The hook no longer was a toy to fool around with. Because it was to become an important part of his arsenal, Magic wanted to learn the proper technique for releasing it. So he consulted Abdul-Jabbar, the hook shot guru.
"I gave him permission to shoot it," Abdul-Jabbar joked. "It's hard to get the rhythm of it, so I worked on it with him, and I guess he's worked on his own."
Magic practiced and practiced the hook during training camp, and sometimes he polished it on his indoor basketball court in his mansion in Bel Air. It became one of his favorite shots, and in March, he beat the Warriors with it in Oakland.
When the final seconds of Tuesday's game arrived, Magic's "real junior, junior sky hook" had been perfected before he lifted it over the fingertips of Boston's 6-11 Kevin McHale and seven-foot Robert Parish.
"At that time, that was my best shot," Magic said. "I've been hitting it all season. I just let it go."
Profiting from older players' excellence has been a life­long habit for Magic, beginning when his father, Earvin Sr., taught him how to think on the court.
The Big O, Cousy, and The Ice Man
While growing up in Lansing, Mich., Magic spent many hours watching Cincinnati's Oscar Robertson star in televised games. Since they both are unusually tall guards, Magic said he watched Robertson closely, and now they talk basketball every summer.
Gervin and the late Terry Furlow also lived in Michigan, so Magic played one-on-one games against them when he was in high school. He didn't get a chance to do that against Cousy, who was 31 when Magic was born, so Johnson has studied films of probably the greatest passer ever.
As a result of Magic's history lessons, he has become an incredibly versatile superstar.
"l looked at bow Oscar backed in and just shot over people," Magic said. "On the passing, everybody can pass, but how you pass to set somebody up for a shot is the key. Cousy used to do that the best. He used to drive in and drop it off for a shot.
"Gervin had all the moves, so once he drove in, he could get his shot over everybody. You very rarely saw George Gervin get his shot blocked because he had a technique to slip and slide in to make you, as a big man, unable to jump."
Now Magic, the ex-pupil, has become a tutor to many high school and college players. Two of his prize students are Celtic guard Sam Vincent, another Michigan native, and University of Iowa star Roy Marble, and Magic often plays one-on-one against youngsters at basketball camps.
It's his way of paying back Gervin and Furlow, an NBA player who died in a 1980 auto accident.
"When I was young, Furlow used to beat me 15-0," Magic said. "I was in high school at that time. I would get so frustrated that I would quit. He said, 'You're not going to quit. If I beat you everyday 15-0, pretty soon you're going to get one game.'
"He beat me every day for a while 15-0, then finally 15-1, 15-2, and you start scoring on him. The same way with Gervin. He would kill me, but by learning, after they beat me I would beat everybody my age and a little older than me. They were so proud of me when I made it to the pros."
Today, Magic Johnson is the star every young player should copy – there's something in his game for everyone.
Next Sunday: The first women's college basketball game. Final score: 2-1