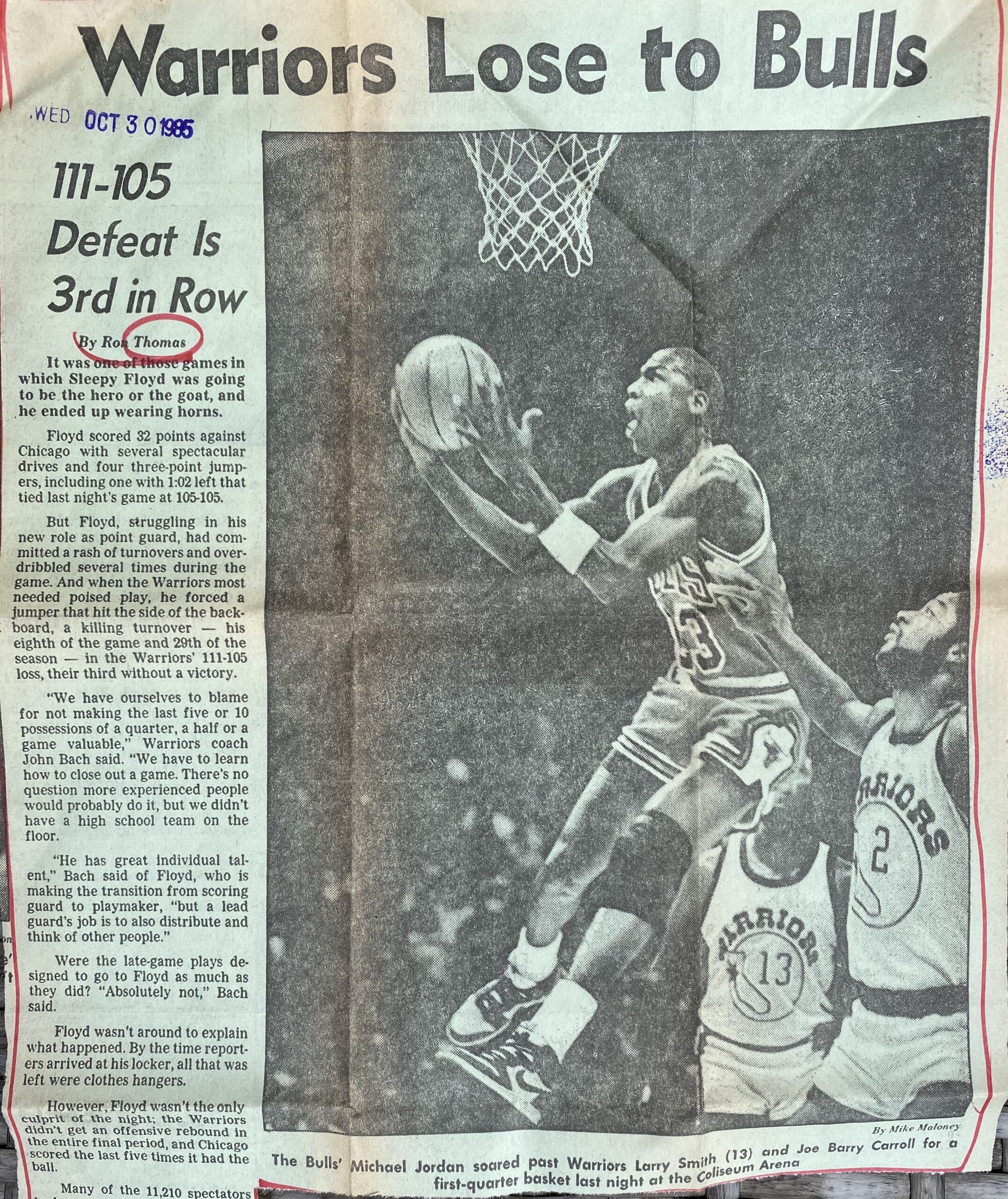 By Ron Thomas
Here is the actual clipping of the game story I wrote after Michael Jordan suffered the only serious injury of his career, a broken left foot in 1985./Photo by Mike Maloney, San Francisco Chronicle
In retrospect, I buried the lead, as we say in the news business. I had overlooked the best story of the night.
In the second episode of "The Last Dance," ESPN's celebrated documentary about the Chicago Bulls' last of six NBA championship seasons, one of the more telling events occurred when Michael Jordan broke his foot in the third game of his second season. It happened in Oakland on Oct. 29, 1985, and I was there.
I was the San Francisco Chronicle's beat reporter covering the Golden State Warriors, and 11,210 fans had come to the Coliseum Arena to see the NBA's newest superstar. The fact that the 15,000-seat arena was far from filled tells you that Jordan was more potential than production, and the Bulls were closer to pedestrian than perfection. Their head coach was Stan Albeck, not Phil Jackson, and the rest of the starting lineup was Sidney Green, Orlando Woolridge, Jawann Oldham and Kyle Macy – all solid NBA players but not a star among them. Scottie Pippen and Dennis Rodman weren't even in the league yet.
Either the Bulls won or Jordan was no fun
The early part of the series had devoted itself to how fanatical Jordan was about winning. There were no moral victories in his world, no confidence-building losses against title contenders. Either the Bulls won or he was no fun, and in the film, 35 years after he broke his foot, viewers could hear the disappointment in the now 57-year-old Jordan's voice as he recalled how he landed wrong on a fastbreak and basically ruined the rest of his season.
However, that night in Oakland, the Bulls rallied behind Woolridge's 25 points and Macy's 12 assists to win 111-105. Jordan had contributed 12 points on 6-for-10 shooting in only 18 minutes, but no one knew at the time that his season was over. So, rather than leading my story with the fact that the great Jordan had left the court after hurting his foot, I "buried my lead" and didn't get around to mentioning him until my ninth paragraph.
"Many of the 11,210 spectators had come to see superstar Michael Jordan, but the Coliseum Arena is becoming his personal jinx," I wrote that night. "Last season, he played a season-low 24 minutes in a Bulls loss when then-coach Kevin Loughery benched him. Last night, he jammed his left foot, compressing two bones, with 45 seconds left in the first half and didn't play again. It was X-rayed after the game."
'I was devastated because I had never got hurt.' – Michael Jordan
At the time, it looked like no big deal; players limp off the court all the time, and even the fact that Jordan was carried off the court a few minutes later didn't raise an alarm. Today, Jordan probably would have had an MRI exam the next day, but that technology wasn't available yet for sports injuries. So it wasn't until November 5th, a week after he got hurt, that a Chicago Tribune article reported the X-rays did not reveal a break but a CAT scan found that Jordan had fractured a navicular tarsal bone in his left foot.
"I was devastated because I had never got hurt," Jordan recalled in the documentary while shaking his head. He still sounds annoyed about it. "They put me in a cast. I couldn't do anything. I was anxious. I'm sure I was irritable to a lot of people."
That fracture cost him 64 games, the only time in his 15 seasons that he had a serious injury. Jordan played in only 15 more games that season, the Bulls finished with a 30-52 record, and Chicago's first of six titles was still six years away.