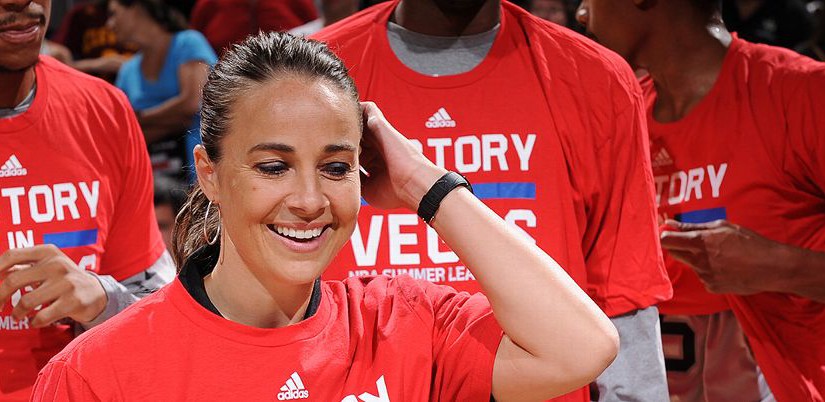 Image Caption: Becky Hammon and her players celebrate her coaching the Spurs to the Las Vegas Summer League championship, a historic basketball achievement. /Photo by Garrett Ellwood/NBAE/Getty Images
By Ron Thomas
The scene looked so familiar to NBA fans. With only 2.5 seconds left in a tied postseason game, San Antonio inbounded the ball, a Spur dribbled toward the basket and then sank the winning 20-foot floater to stun Boston in a quarterfinal playoff game.
It looked like the Spurs' iconic coach, Gregg Popovich, the winner of five NBA titles, had worked his magic again. Except that after the winning play a commentator said, "Just like coach Hammon drew it up."
Who? He was referring to Becky Hammon, who on July 11 became the first woman to be the head coach of an NBA Summer League team. Saturday's winning shot by her player, Shannon Scott, raised her team's record in the Las Vegas Summer League to 4-1 and qualified them to face Atlanta in Sunday's semifinal.
They overcame a 12-point deficit to win that game, and then squeezed past Phoenix 93-90 on Monday to win the Las Vegas Summer League championship in Hammon's head-coaching debut. After losing her first game, Hammon led the Spurs to six straight victories.
Those last three games were perfect examples of  why Popovich hired her as the NBA's first full-time female assistant coach last season. He has highly praised Hammon, a longtime WNBA star guard, while comparing her to three excellent NBA coaches he helped groom.
"She talks the game," Popovich said. "She understands the game. So for all of those reasons, you really know she's got that same sort of Avery Johnson, Steve Kerr, (Mike) Budenholzer type thing."
At the age of 66, Popovich soon will start his 20th season as the Spurs' head coach. He has said he will complete the remaining four years on his contract. Maybe by then, or before then, the noted wine connoisseur will be ready to retire to spend more time sipping his private wine label Rock & Hammer Pinot Noir.
Despite all of his championships, the boldest and most unique part of Popovich's legacy would occur if he hands the head-coaching reins to Hammon.
Hammon is fortunate to have the strongest advocate she could ever wish for, a future Hall of Fame coach who commands so much respect that if any Spurs player balks at taking orders from a woman, he should just keep that thought to himself. As all of us who grew up with a strong father figure remember, there are some things you just don't want "Pop" to know.